With Christmas vastly approaching I have noticed a rise in blog giveaway celebrations.
I recently have the opportunity to make a couple of buttons to advertise these giveaways.
A Wrestling Addicted Mommy is hosting a 12 Days of Christmas giveaway. Here is the button I made for Gina.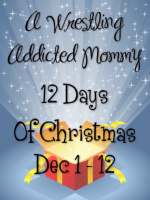 And Paige at
NurseMommy
is having a week long celebration. Here is her button.
You can't really tell but Paige's button has a border around it. lol
If you are in need of a button to advertise your Christmas giveaways I'm the girl for you.
In honor of the holidays I am reducing the button and code price from $5 in half to $2.50.
If your interested be sure to contact me.